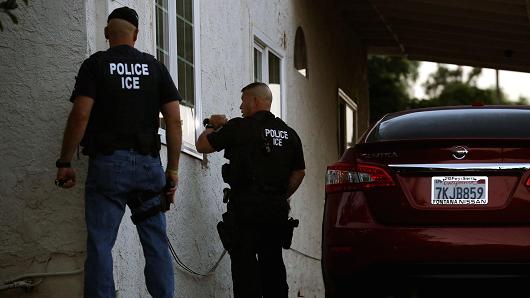 In today's increased enforcement climate ICE raids have increased. Maybe not as much is perceived because ICE ultimately has limited resources however there is more emphasis on picking up people particularly in a state like California that does not allow immigration officials unfettered access to folks who are in jail.
What do you do if ICE comes knocking on your door? First and foremost stay calm. If ICE is attempting to enter private property, even if you are undocumented, you have rights guaranteed by the U.S. constitution.
Ask the officer through the closed door to identify himself. You can say, "What agency are you with?" The officer might say that he is with the "Department of Homeland Security" or "U.S. Immigration and Customs Enforcement." The officer might name another agency. He may even merely state he is a police officer. No matter what, keep the door closed. Through the closed door, ask the officer if he has a warrant. If he says "yes," still do not open the door. Ask him to show you the warrant by slipping it under the door.
Review the warrant and look for your name, your address, and a signature. This can help you decide whether or not the warrant is valid. If the warrant does not look valid, you should return it under the door and say it is incorrect. If the warrant the officer shows you looks real, look to see if it was issued by a court or by U.S. Immigration and Customs Enforcement (ICE). Only if the valid warrant was issued by a court should you open the door.
If the warrant is issued by a court you must open the door. Do not sign anything and tell the officer you want to talk to a lawyer before you say anything. Do not give him or her any kind of identification documents that say what country you are from.
Most important to remember is do not open the door if he cannot show you a warrant.
You can keep this by the door and state this to the officer (or slide it under the door to him or her):
I do not wish to speak with you, answer your questions, or sign or hand you any documents based on my 5th Amendment rights under the United States Constitution.
I do not give you permission to enter my home based on my 4th Amendment rights under the United States Constitution unless you have a warrant signed by a judge with my name on it that you slide under the door.