Top-Rated Los Angeles Immigration Lawyer
The Law Offices of Todd Becraft are Ready to Help You
Contact Us Now
Todd Becraft is a Los Angeles Immigration Lawyer with over 30 years of experience assisting people like you realize your dreams of American citizenship. With offices easily accessible from all parts of Greater Los Angeles, we're here to help you.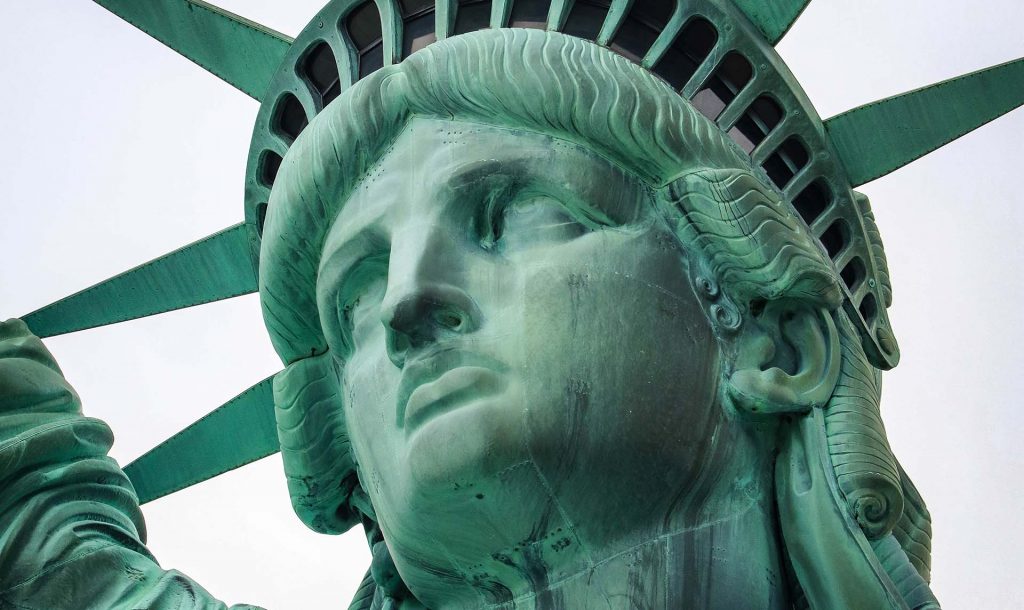 Immigration Law is Part of the Foundation of America
Immigration is what our United States of America was founded on, and immigration law is the legal process that makes it work.
The text at the base of the Statue of Liberty famously reads:
Give me your tired, your poor,
Your huddled masses yearning to breathe free,
The wretched refuse of your teeming shore.
Send these, the homeless, tempest-tost to me,
I lift my lamp beside the golden door!
Immigration historically has allowed the best and brightest individuals, previously stifled in their countries of origin, to gather within our borders regardless of where they were born, a process which continues to this day. Immigration has also allowed our country to provide a safe haven for those who are persecuted in their home country, a legal process called asylum. And finally, immigration is a laboratory that tests the notion that people from diverse backgrounds and cultures can live in the same community as long as they share "American" ideals.
A Law Office with Your Interests at Heart
These are the principles that we adhere to at the Law Office of Todd Becraft. More than two hundred years after the founding of our nation, immigration is still a process that can be difficult to navigate, and immigration law can be a source of great confusion, thus effectively sealing the door to our country for many people. Let us open those doors for you. We are passionate about making these ideals a reality for our clients so that we can be a part of the enduring American experiment.
We represent folks who are petitioned by their family members—long a part of the immigration tradition in this country. We also work with individuals and families that have been persecuted in their home country whether it be for a political opinion, their nationality or race, their religion, gender, sexual orientation or any other reason that offends a sense of justice. Finally, we assist immigrants who have lived in the United States without status avoid being separated from their families because of criminal convictions that don't define who they are as people.
If you want a lawyer who has a small practice with a hands-on approach to your case, please contact our office and we can assist you.
Positive: Professionalism, Quality, Responsiveness, Value
Todd Becraft is the best immigration attorney in Los Angeles. He specializes in Asylum, deportation and green cards. He did an awesome job helping a couple of my family members. His office staff are polite and pleasant. 100% recommended.
Positive: Professionalism, Quality, Responsiveness, Value
I'm happy to recommend the services of Todd Becraft for immigration cases. He is one of the best immigration attorneys in Los Angeles. Todd is knowledgeable and efficient. He has helped many people in my community.
Positive: Professionalism, Quality, Responsiveness, Value
Mr. Tood Beercraft is a great immigration lawyer he is very good for asylum cases and green card for African people. He is very nice and his assistants are polite and pleasant. Thanks to Mr. Beercraft I have my green card and my next step is citizenship. I recommend his services to all people and all African people. Thank you !!
I appreciate Todd's team for helping me with my immigration status. Sandy helped me prepare my paper work and I always got a quick response from her when I had questions. Most organizations suffer to deliver as they expand their clientele base, but as this law firm has grown over the years, it's only gotten more efficient as their team has not only expanded but proven to be experienced, courteous and always putting you at ease. I can say without fear that I highly recommend The Law Office of Todd Becraft over and over again!
My immigration case was very difficult in all aspects. My immigration problem was hard to solve and could cost me leave this country for good. I'm very thankful to Todd Becraft, the lawyer from God, who listened to me, believed in me and resolved my problem. If had any other 100 lawyers to choose I would still choose Todd Becraft over any other lawyer. He is truly compassionate and truly has a great understanding in what he is doing.
Todd is a very knowledgeable person and he is very professional. I'm really happy that I worked with Todd on this very important matter. Also Sandy who is Todd's assistant was very helpful with the process too. Todd is one of the best in the business! Don't think twice!